Through implementing a holistic phone system like Voice over Internet Protocol (VoIP), your business expenses can be significantly reduced. Here at ProComm365 Technologies, we help clients save up to 80% on their phone bill with our robust communications solution. Edward H from the Boucher Institute of Naturopathic Medicine said that "Using [ProComm365's] VoIP services has not only saved us more than half of our monthly expenditures, but improved the quality of our phone system and reduced our maintenance costs to almost nothing". This is just one example of many.
VoIP allows you to route your telephone calls, as digital data, over high-speed or cable internet connections . This enables you to pay less for all the features you get compared to traditional phone service providers and so you only pay for what you use.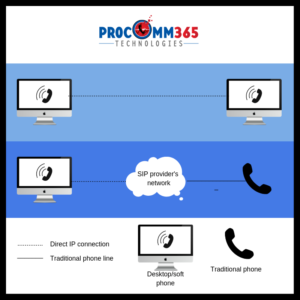 Whether you are a small business or an enterprise organization, switching to a VoIP phone system will enhance productivity and shrink expenses.
There are many ways in which VoIP can help your business. Our system includes:
Mobile apps to answer calls to your office phone extension via your mobile device

Client confidentiality protected by our secure, encrypted communications

Custom rules and scheduling along with voice messages for different situations so that an out-of-hours caller won't feel frustrated by their inability to speak with someone immediately

Free office calls for teleworkers or traveling sales people 

The elimination of interoffice call charges by connecting remote office

Web conferencing services

Advanced call centre features

A click to call extension that enables you to make phone calls directly from your CRM or browser

Call recording, call tracking, and logging features can help you keep on top of every detail

CRM integration to provide better service by having client/customer information on hand through the cloud 
Our goal is to bring you the best price and ultimate in customer service. You can check out our price comparison chart to see for yourself what sets us apart.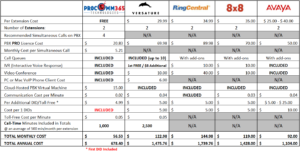 Are you ready to elevate your business systems? For a personalized quote to fit your specific needs contact us here.